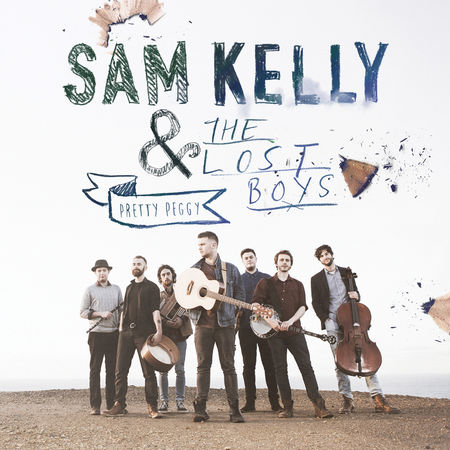 Sam Kelly
& The Lost Boys har netop udgivet albummet
"Pretty Peggy"
, og de gode anmeldelser er allerede væltet ind:
"If this album doesn't pick up several Folk Award nominations there's something seriously wrong – it's as damn near perfect as you can get"
- Mike Harding
"Amazing, thrilling music"
- Mark Radcliffe, BBC Radio 2
"Folk hasn't rocked this hard since Fairport's heyday – this album thrillingly captures their live verve, muscle and electricity"
- Morning Star
"If there's a better folk album released in 2017 I look forward to hearing it"
- Folk Monthly
"Eclectic, bold and intriguing – the darkly mystical Shining Ship teeters on Pink Floyd territory. Kelly's a risk taker but a calculated one – he ticks so many boxes it's hard to see how he couldn't appeal to most people"
- Colin Irwin, fRoots
"Sam Kelly & The Lost Boys are hot property. It's difficult to think I will hear a better album this year"
– Shire Folk Magazine
"There are some records that just make me very happy and this is one of them. There are fresh delights at every turn. Sam and his have made one of the albums of the year"
***** – RnR Magazine
"An excellent album. Dynamic, energetic folk rock – boldly modernised trad songs and originals"
– Songlines
"Sam Kelly and The Lost Boys have produced one of the folk albums of the year. They breathe new life and vigour into traditional songs and add their own to create a perfect mix of folk with a modern edge"
– Get Ready To Rock
"It's clear from Pretty Peggy that Sam Kelly and his merry band seem set to challenge the paradigm that young music fans seeking to be cool would never be seen at the same gig as their parents. His is a talent set to shine brighter"
**** – Spiral Earth
"He's nurtured the band he always wanted and achieved goals he once considered unimaginable – and it feels like he's only just getting started"
– Folking.com
"Sam Kelly has unquestionably blazed a trail in the folk field and you get the feeling Pretty Peggy is another seed sown on a significant pathway . The notion of the tricky second album gets blown out of the water"
– Louder Than War
"Proving that big party bands are no longer the exclusive domain of the Scottish and Irish music scenes , Pretty Peggy has infectious rhythms, soul stirring vocal arrangements, masterful instrumentation and invention – it is easily one of the best albums to come from the ever growing world of youthful folk music"
– Folk Radio.co.uk
"Kelly stakes a claim for a Best Album nomination in next year's Radio 2 Folk Awards"
– Folking.com
Sam Kelly kommer i øvrigt på Danmarksturné med to af "de fortabte drenge" i september 2019. Kontakt os for booking og mere info!